To my fellow lady preppers and survivalists, have you heard of the Diva Cup?
If you haven't, I'm telling you… it's a must-add to your survival kit. Surviving the end of the world is one thing… surviving the end of the world while on your period is something else.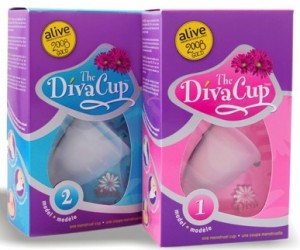 What Is the Diva Cup?
The Diva Cup is a reusable menstrual cup, made of high quality silicone to guarantee the best comfort and fit. Instead of swapping out pads or tampons every few hours, a menstrual cup offers protection for 10-12 hours – and since it sits inside the vaginal canal, collecting your flow rather than absorbing, it also boasts leak-free protection.
Why the Diva Cup is Ideal for Survivalists
Goodbye Tampons- Isn't it nerve-wracking to think about how many tampons you may need if society collapsed? And surely you don't want to return to the Biblical days of just sitting on a hole in the ground! Instead of chugging along 40 tampons in your bug-out bag, you can replace it with just one small and reusable Diva Cup.
Size- At about 3 inches long, the Diva Cup comes with a nice little discreet pocket for easy storage. Since it's made of flexible silicone, it can easily be crammed into your bugout bag.
Cost- A box of tampons is around $5. The Diva Cup is $25-29 on Amazon. After 5-6 months of use, it will have paid for itself.
Using the Diva Cup
Without getting too awkward or personal here, I will admit, it does take some getting used to. You will become more familiar with your body. At first, placement can get a little strange and uncomfortable, and although the Diva Cup comes with a recommendation for easiest insertion, but there are alternative methods available on their website.
Which Diva Cup is For You?
There are two different kinds/sizes of Diva Cups for girls and ladies at different stages in their lives. (You may also want to pick up the DivaWash as well — as you can imagine, these need to be more than just rinsed after each cycle!)
1. Pre-childbirth (View on Amazon)
2. Post-childbirth (View on Amazon)
Using Reusable Pantyliners with the Diva Cup
The Diva Cup will catch the majority of flow, but leaks can happen, especially in the beginning as you're getting used to using the cup. Reusable pantyliners — or even better, period underwear
— can do the trick and provide long-term sustainability.
Note: I was not perked to write this review – I just love this product!