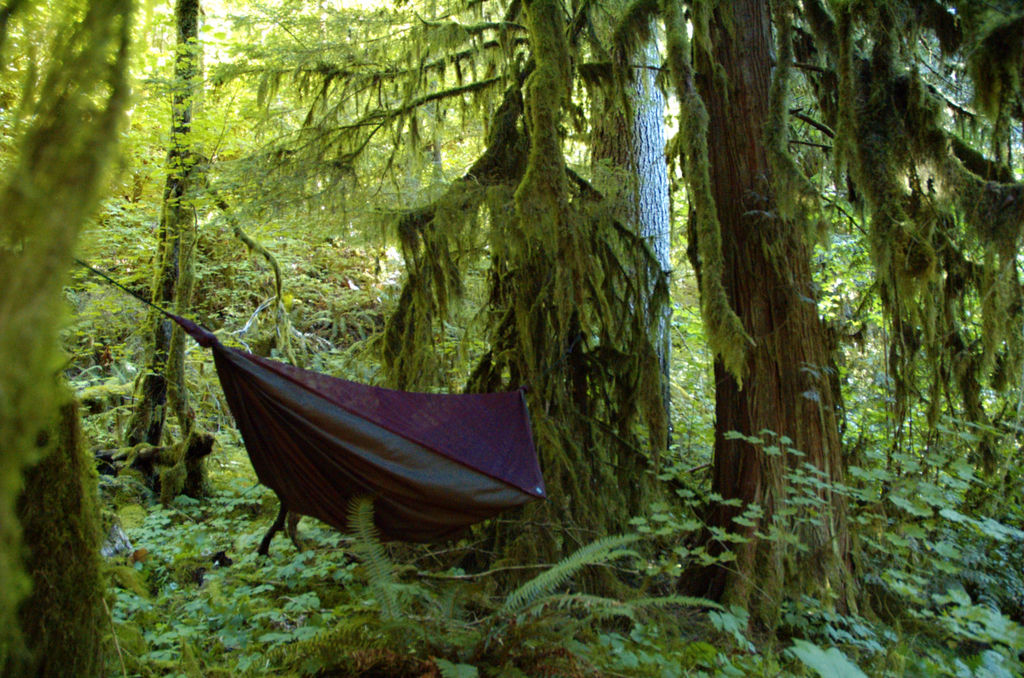 If you're an avid hiker and camper, carrying all of the gear necessary for a comfortable night's sleep in a tent can add substantial weight — unless you want to pay top dollar for a lightweight tent and sleeping bag!
Camping in a hammock is versatile, quick, far lighter, and arguably more comfortable. What are the benefits and the drawbacks?
Benefits to Hammock Camping
Lighter weight  – On average, a tent weighs 3-10+lbs, depending on size. By comparison, a hammock weighs less than 2 lbs.
Size – A tent can take up half of your pack or more, while a hammock can take up the palm of your hand!
Versatility – Instead of looking for level ground to set up your tent, you can set up a hammock anywhere you can find two sturdy trees.
More comfortable – Camping in the mountains of the South, it's been a challenge to find a place that is perfectly level. If I'm on a slant, I'm guaranteed to have a bad night's sleep. A hammock is appealing to me because I can control the incline by how I tie it off on trees — I'm not at the mercy of wherever I'm trying to make camp.
If you've never been comfortable sleeping in a tent…a hammock may be right for you, and eliminates the need to carry an awkward sleeping pad.
Avoid wet ground – Should you find yourself camping in the middle of a heavy rainstorm, it's challenging to keep your tent on dry ground day after day. With a hammock, you're above the puddles and mud.
One with nature – You're even more present in nature in a hammock! Instead of trying to recreate a semblance of home instead of a tent–the very thing you're getting away from– a hammock provides a different dimension of escape.
Warmer – The ground can be colder than the air, which can make for a difficult night's sleep in a tent, even with a sleeping pad. In a hammock, even though breezes may be a factor, you'll avoid having the heat sucked out of you by the ground.
Drawbacks to Hammock Camping
Not ideal for more than one person – Yes, they make two-person hammocks, but getting your "own space" is still a challenge when you're hanging in the air.
Requires trees/posts – Obviously this isn't a drawback for 90% of hikers and campers who camp in forests, but if you do a lot of desert camping or hanging out in expansive fields, than a hammock would not work.
No real place to store gear- Hammocks aren't really made to store your backpack in there with you. Boots, socks, and clothes can be hung on the hammock suspension, but for the backpack itself, you're left with two choices: place it underneath your hammock, or purchase an additional nylon hammock. (Remember: As always, you should hang your food from a tree far from camp.)
Adapting/Learning curve – The majority of hammock campers recommend doing a "dry run" before embarking on a major trek. Set up the hammock somewhere close for one night — that way, you'll get practice with the set up, as well as adapting to sleeping in a hammock.
Choosing a Hammock and Additional Gear
There's a few questions to ask yourself before selecting a hammock:
How long are your camping trips?
What type of weather will you use the hammock in?
Depending on the type of climate, the time of year and length of your camping trips, you may also want to invest in a hammock with a mosquito net and a fly to hold off rain (or a tarp at the very least).
There is at least one after-market purchase you should invest in: Quality tree straps.  Amazon sells a few sturdy tree strap options from $15-$29.99. (There's also a $6 version, but just read the reviews — the quality and durability is a crapshoot.)
Using a Hammock in a SHTF Scenario
I like the idea of hammock camping because it's a smaller system and far more portable than a tent. You can also set up in less conspicuous places, and with hammock colors coming in dark greens and camouflage, you won't stick out.
Have you used a hammock for camping? Did you love it or hate it?