Is it just me, or are the majority of popular options for concealed carry just downright awful? I don't want to carry a special purse for my gun — what if I get mugged and my purse gets stolen before I have time to react?
To my surprise, there's more available than just purses and ankle holsters.
There are several options for concealment that are made just for women, that can be carried in a variety of places. Each have different advantages for right handed or left handed shooters. (With so many options available, it really depends what your preference is for where you'd prefer to carry your gun.)
UnderTech Undercover Women's Concealment Tank Top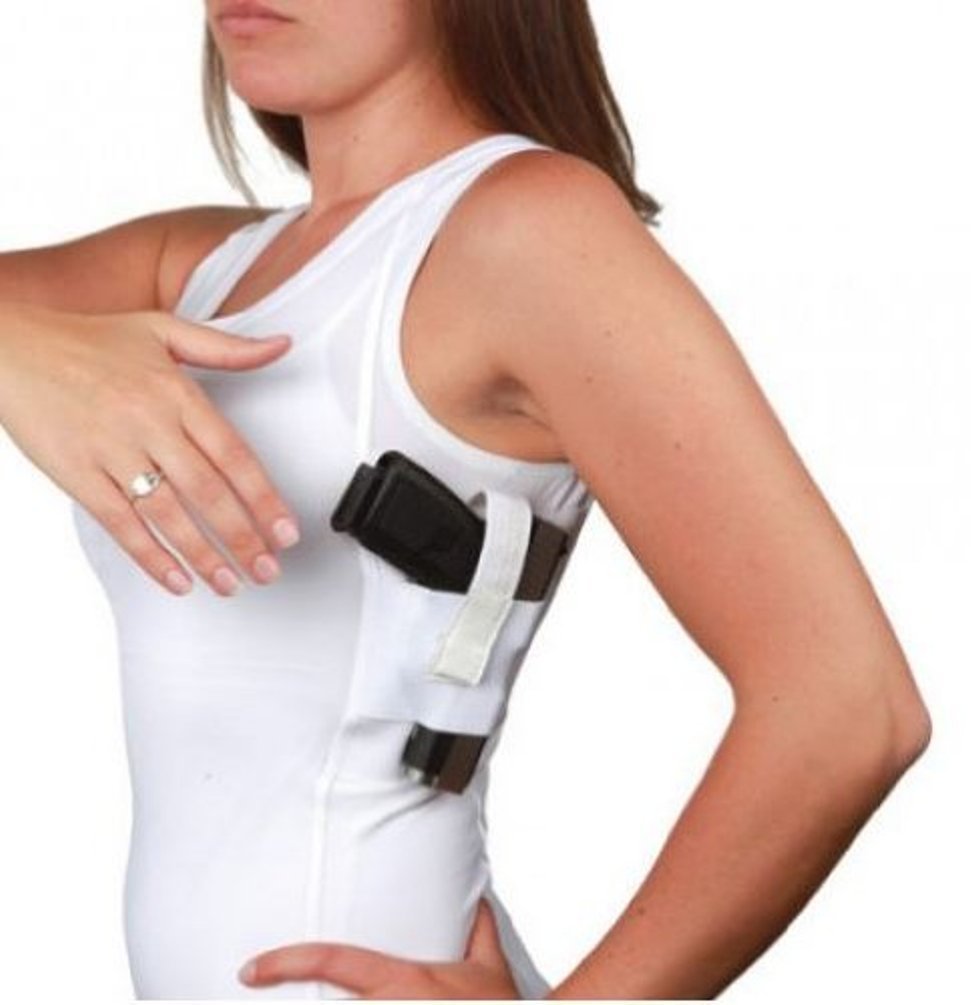 Price: $49.99  (Amazon)
Manufacturer Specs: Comes in three colors: black, beige, or white; 88% Polyester, Compression styled, conforms to your body like a second skin, made in the USA
My take: It seems sturdy and not that big of a nuisance. I'd pair it with some type of an overshirt. I couldn't find any material to back this up, but it looks strictly made for the right-handed draw.
UnderTech Undercover Shorts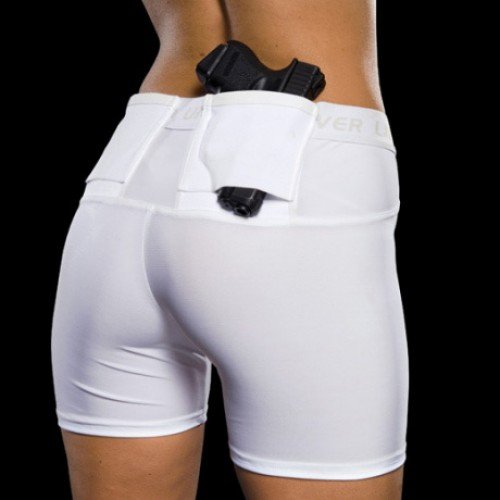 Price: $49.99 (Amazon)
Similar to Undertech's compression tank top, these concealment shorts are popular amongst law enforcement professionals.  They're also one of the few options available that don't require a belt. (UnderTech has a very strict return policy for hygiene purposes– triple check sizing before ordering.)
Manufacturer Specs: 
Available in black, nude, or white
Each pair of shorts features two identical holsters for left or right hand user
MicroPoly/Lycra blend
If you prefer shorter shorts or skirts, Undertech also makes Concealment Short Shorts.
My take: These look sleek and comfortable, and as a left-handed shooter, I love that the draw can be alternated.
Flashbang Holster's Bra Band Holster
Price: Around $33 (Amazon)
This type of holster snaps onto the front of your bra band, and the gun is released simply by pulling down on the grip. Flashbang holsters come in an array of sizes, made specifically for the type of gun you're carrying. Be sure to pick up the appropriate holster — the pictured holster is for a 380 Smith & Wesson.
My take: It's probably the last place someone would look to check for a gun! I can't imagine the surprise of the attacker when you reach up your shirt to reveal your weapon.
Garter Holster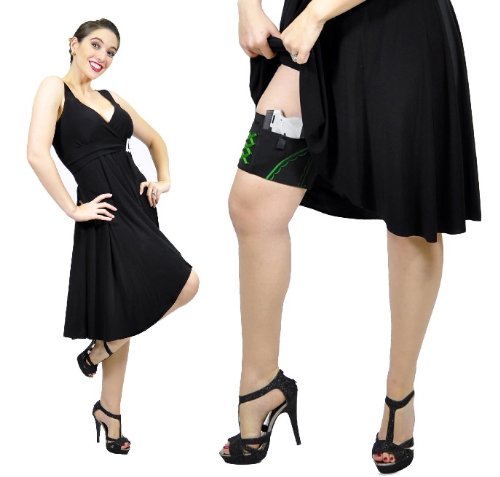 Price: $69 (Amazon)
The "garter holster" (essentially a thigh holster) can be worn on either the right or left leg. The benefit to this particular model is that it can be paired with a sexy garter belt.
Manufacturer Specs: 2 firearms and 1 magazine. Can also be used to carry pepper spray, tasers, knives, money or lipstick.
My take: The corset-styled pulls is little much, but if you're going for a sexy secret agent look, I get the appeal! And obviously, this style will only work with dresses/skirts, not so much if you're a fan of skinny jeans.
Gals With Guns' Non-Slip Thigh Holster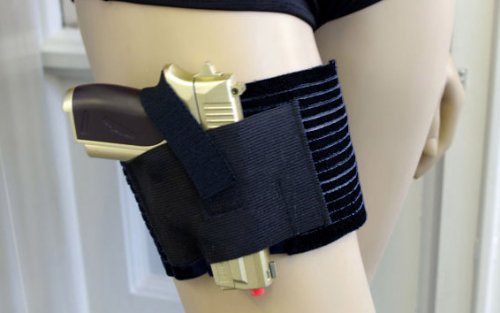 Price: $30 (Amazon)
For something a a little more affordable and a little less…corset-y, this thigh holster from Gals with Guns is extremely practical. It can be worn on either the right or left leg, but is right-draw only.
Manufacturer Specs: 
Constructed of breathable, 4″ elastic with two 1/2″ silicone grips

Velcro hook/loop closure, 3 thigh sizes available

2 Styles: TINY revolver (i.e. North American Arms LLR .22LR) or SMALL SA (i.e. Ruger LCP .380 or similar compact SA)
My take: I don't need any frills, so this would be perfect for me.
Hip Hugger Classic 
Price: $79 (Amazon)
This belt is snazzy as the gun can be carried in the front or the back, giving options depending on the environments you plan to carry in.
Manufacturer Specs: Conceal and carry up to 4 compact weapons and 3 magazines. Can also be used to carry pepper spray, tasers, knives, money or lipstick. Perfect for weapons under 6.5″ in total length. Military-Grade compression elastic.
My take: This is probably the most versatile option for women looking to conceal carry, and can carry a variety of items and can be left or right-hand drawn.
Summary
This should give you a few new ideas if you're in the market for a concealed carry option aside from the average purse. Ultimately, choose the option that best fits your lifestyle and wardrobe — and make sure your gun will fit (especially for the bra band holster).
Which concealed carry option best fits your needs?