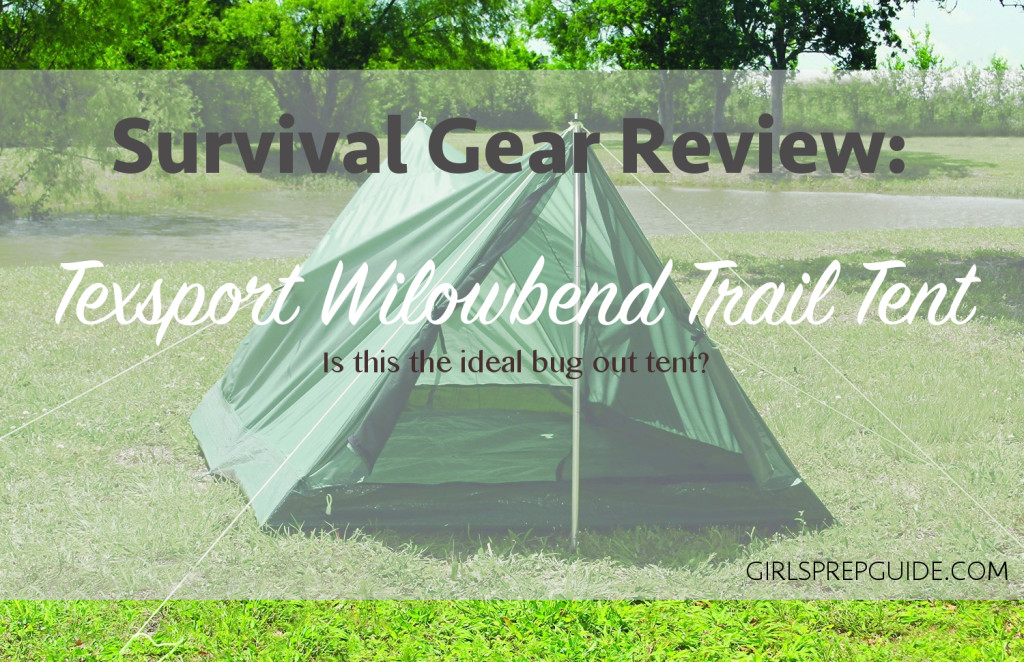 When I first started collecting camping gear for my bug out bag, I spent a lot of time researching different kinds of tents. I already had a 3-person dome tent, but it weighed a lot and was too enormous to strap to my backpack, even when it was packed down as tightly as possible.
Enter the Texsport Willowbend Trail Tent. I was immediately amazed by how lightweight it is, even packed down. But the real question: Would it make a good bug out tent?
The Perks
Extremely lightweight. Clocking in at 3.5 pounds, this tent is SO MUCH lighter than the majority of camping tents, which was the major selling point for me.
Packs up very small. When it's packed up, it's just a few inches longer than the bottom of a backpack. It is at least half as small as the standard 3-person dome camping tent.
Easy to set up. I'm kind of an idiot when it comes to setting up tents, but a pup-style tent is very intuitive (and it comes with directions).
The color. The green blends in well with surrounding nature, unlike the standard red, yellow, or blue tents you often see.
The price. Priced around $30, this tent is very easy on the wallet. There are better tents out there, for sure, but if you're on a budget, it's a perfect choice.
Great for the casual camper or novice prepper. If you're new to the world of survival and camping, this tent is a great fit as it provides the bare bones, keeps the concept of shelter simple without taking up a ton of room.
The Bad
The stakes are rather short, and the rope isn't of the highest quality, meaning it's hard to get the tent to stay taut, especially in loose soil. Meatier stakes and a little paracord would be a worthwhile investment (about $10 total) to keeping the tent taut.
Water resistant, not waterproof. The tent will keep you dry in a drizzle — it did for me — but it's not made to withstand downpours. Pitch a tarp if you're really concerned.
Floor isn't strong material. The floor of this tent is a little thin compared to the standard tent. It will keep you dry, but it isn't as sturdy as a tarp.
Not durable enough for multiple week-long trips. If you're a serious camper (or an aspiring hardcore camper), it might be worth it to explore something of a little higher quality. This tent is fantastic for quick overnight trips, but I'm not sure how it would withstand multiple week-long expeditions. In my opinion, for week-long trips, you need a tent that can handle anything that's thrown at it. While this tent is great for drizzles, I wouldn't want to stay in it during a summer thunderstorm.
Summary
I've used this tent several times over the last three years, including on a four-mile hike at Sipsey. The best quality of this tent is, by far, how small and lightweight it is — it's incredible to carry your shelter on your back without even realizing it. The portability has allowed me to carry a sleeping pad in addition to a sleeping bag, which results in a more comfortable night's sleep.
>> Buy the Texsport Willowbend Trail Tent on Amazon
If you're looking for something that can handle fiercer weather, check out these tents at similar price points: