I prefer jogging outside over any kind of gym membership, and have always felt fairly safe. After being attacked by two dogs in a one year period, I was a little fearful whenever I came across a strange, unleashed dog.  I wanted to keep working out, but wanted a way to defend myself.  I wanted a self defense tool that was small, sporty, and wearable. The traditional keychain pepper spray bottle wasn't going to cut it (and let's be real, those things are honkers). After scouring the internet, I found exactly what I was looking for: The Little Viper Pepper Spray Bracelet.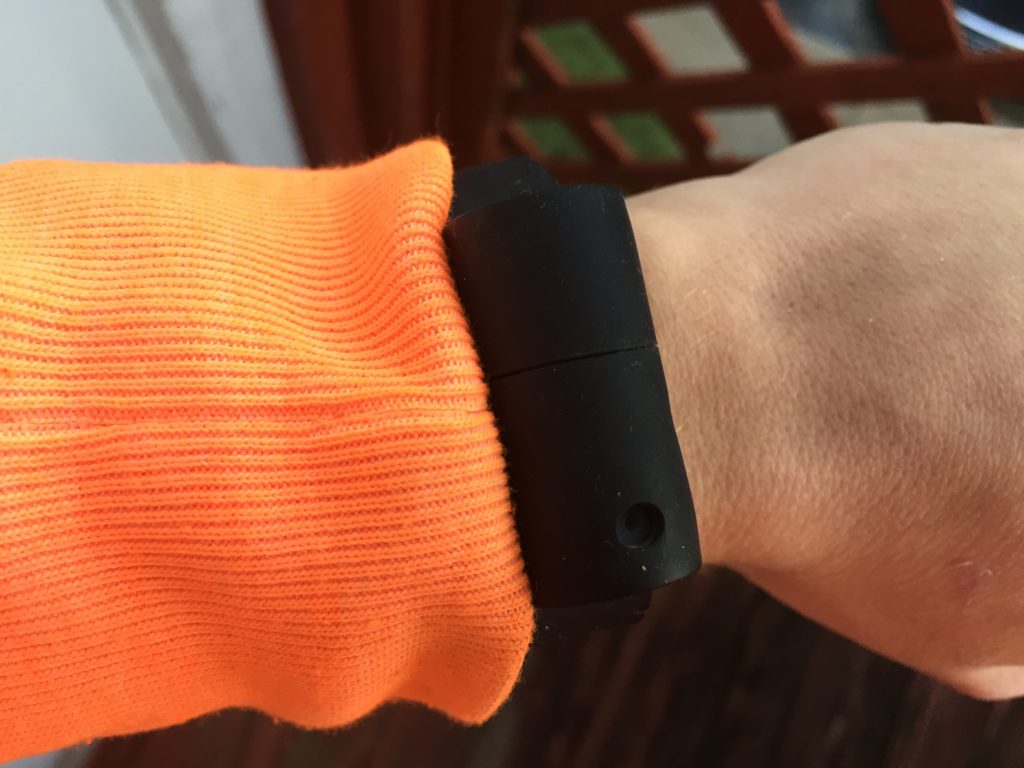 The Little Viper Pepper Spray Bracelet is a $20 silicone band with a tiny pepper spray chamber in the middle, and two button snaps on the end. It was created to give a reliable option of self-defense while keeping your hands free. It's perfect for runners, walkers, college students, or really, anyone that travels alone… and it's perfect for every girl or woman! As of now, the Little Viper comes in a variety of colors: Black (which I have), dark green, bright pink, yellow, blue, and camouflage.
Advantages of the Little Viper
Portability — It's so small and lightweight, I can take it with me everywhere I feel slightly unsafe. I'll wear it when I'm running, or I otherwise keep it in a cupholder in my car. Due to the portability, I've tucked it in my front jeans pocket several times when I'm out at night.
Sporty design — It doesn't look like a bottle of pepper spray. The metal snaps make it look like any kind of sporty bracelet.
I use it way more often — I've had the traditional pepper spray bottle before, but as I've said before, they're so darn bulky. I'm not a big purse person, and the traditional pepper spray is way big to fit in a clutch or pants pocket.
Adjustable snaps — The two button snaps make for a sporty design, and there are three options for how tight you want the bracelet to be. I usually wear it a little loose.

Minor Drawbacks
Fewer pepper sprays — Since the Little Viper's pepper spray chamber is about a quarter of the size of a traditional pepper spray can, you won't get as much use out of it. The guaranteed use is 3-6 sprays. I did one test spray when I first got mine, so I'm down to 2-5 sprays. If I ever have to use it in a self defense scenario, I'll buy a new one.
Cost — At $20, the Little Viper is more than twice the cost of traditional pepper spray. But, it's portability and discreetness more than pays for itself.
Silicone = Sweat — When I run and close both snaps of the Little Viper for a snug fit, it is a snug fit (and I have tiny wrists!). The result is a lot of sweating and subsequent itching. The solution is pretty simple, though: Undo the tightest snap and wear it a little looser.
Should you buy the Little Viper? YES. The drawbacks are so minor, and are far outweighed by the convenience and protection the Little Viper offers.
Disclaimer: I paid full price for my Little Viper pepper spray bracelet two years ago — as this review has shown, it's s worth every penny.  Pepper spray is outlawed in some states and countries; please check before purchasing or traveling.