What kind of food should you pack in your bug out bag or get home bag? Each have their perks: Survival bars are lightweight, freeze dried food lasts for decades, and MREs are tasty. But each has their drawbacks. Which is best for your survival scenario?
Option 1 for Bug Out Bag: The Survival Bar
Survival Bars are easy to carry. A little can go a long way: One bar is 3600 calories, roughly a day and a half's worth of your caloric intake.  However, they're a bit light on protein — not good if your bugging out route requires any sort of physical or strenuous activity.
Ideally, you'll need to supplement a survival bar with real protein bars. This isn't a huge deal but it will require a little more maintenance. (Protein bars generally expire within 6 months and melt pretty easily.)
Pros to Survival Bars: Compact, dense, and high-calorie. They're also very hardy and can survive a wide range of temperatures. Perfect for a Get Home Bag.
Cons to Survival Bars: Taste. Consistency. They have a much shorter shelf life than freeze dried food (5 years vs. 25 years). Frankly, the nutritional value isn't fantastic. Some of them do have a decent amount of fat and vitamins, but not a ton of protein.
Option 2 for Bug Out Bag: The MRE
MREs are ideal for the 72-hour bag and the "bugging out" scenario. Originally designed for the US Military, MREs are full meals packed with protein.
Pros to MREs: Very tasty and filling; most closely resembles a full meal. Best nutritional value; optimal for bugging out and replenishing calories after strenuous activity.
Cons to MREs: Bulky, heavy. They also tend to be the most expensive of all the survival foods. Shelf life is considerably shorter than freeze dried.
Option 3 for Bug Out Bag: Freeze Dried Pouches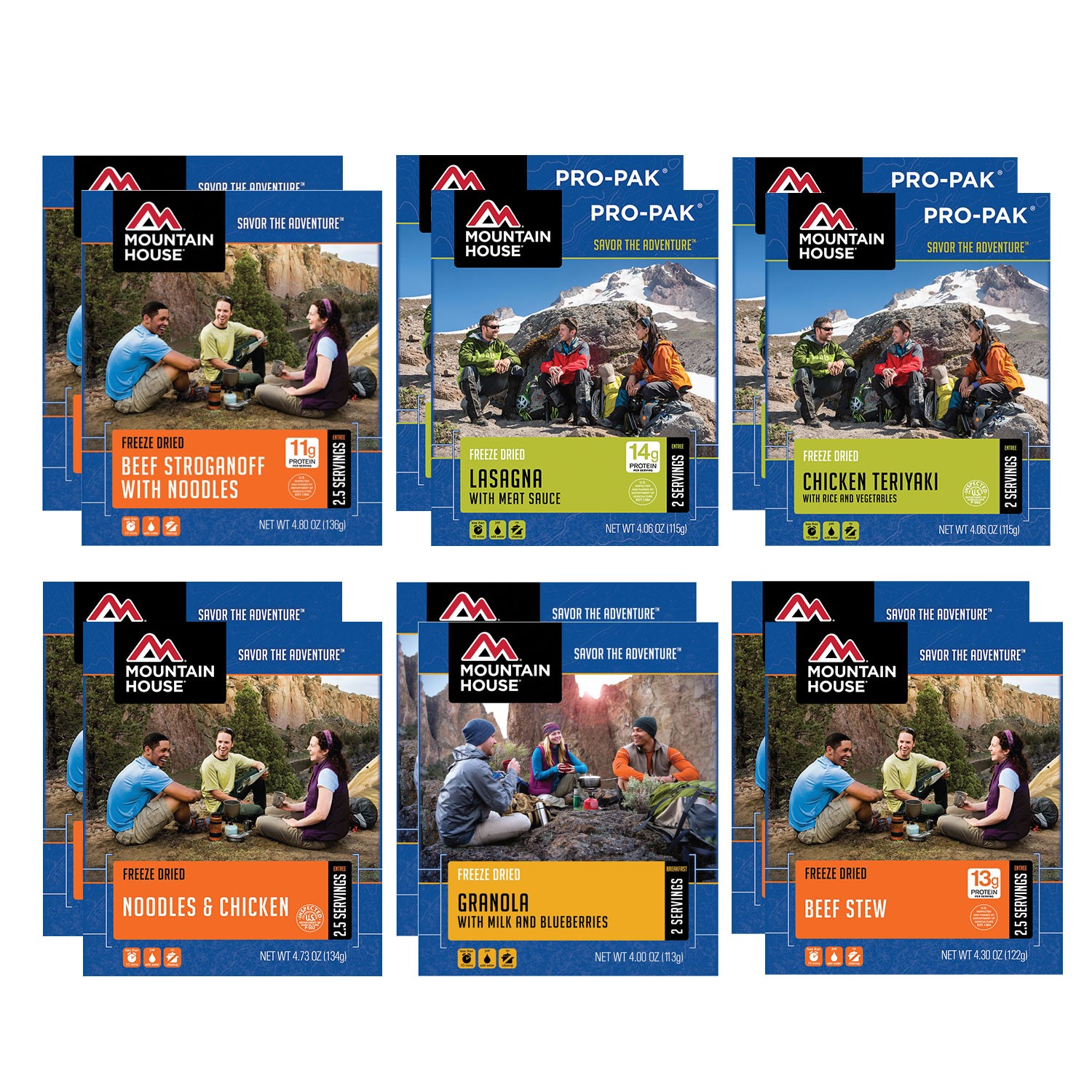 Freeze dried food is most common for camping and the casual survivalist. Since it's the most mainstream of the three, there are several more options, and is available in almost any store that sells camping equipment. However, freeze dried food almost always requires water — and is super high in sodium.
Pros to Freeze Dried Food: Super lightweight. The most mainstream of all the survivalist foods; easiest to find different flavors. Also has the longest shelf life (25 years).
Cons to Freeze Dried Food: While it's the most convenient, there are also more cons to freeze dried food than anything else, in my opinion.
The majority of freeze dried food has a LOT of sodium. You're gonna get super thirsty. If you're in a desert climate or anywhere where water is a scarcity, you'll want to avoid making freeze dried food your main go-to in a bugging out scenario.
Most freeze dried food requires boiling water, meaning you'll need a mess kit and you'll need to either build a fire or bring a camping stove. These are major drawbacks for bugging out as it's adding more gear to your pack. (Building a fire can also draw unwanted attention.)
Lastly, lots of sodium is not great for your health. We all know it isn't good for anyone with high blood pressure or a family history of high blood pressure.
Long-Term Food Plan for Survival
For long-term survival goals, it's important to have a long range plan beyond bars, MREs, and freeze dried food. Sustainability and living off the land should be the ultimate goal for long-term survival. If you haven't seen the Walking Dead, scavenging for canned food really sucks after awhile.
Pick up some heirloom seeds and teach yourself how to garden. Does your survival plan involve ending up somewhere you could raise chickens? (Do you know how to raise chickens? Remember, they will need to eat, too!)
My Current Survival Food Breakdown
I'm still a work in progress, here! Currently, my survival food breakdown consists of:
Food in Bug Out Bag:
Also read: My Bug Out Bag Packing List
And in my "survival food stash":
25-year canned food purchased from a local Home Storage Center (run by Church of Latter Day Saints; you do not need to be LDS to purchase goods). I highly recommend this– you can get a LOT of food for not a lot of money. They also sell dry baking goods such as flour, wheat, and baking soda.
1 5 gallon bucket w/ lid full of various items that need to be cycled through every 2-5 years – peanut butter, tuna, toiletries, etc. There's also a pouch of powdered eggs (NOT freeze dried), but those end up being an expensive item to keep in your kit – they generally expire within 6 months to a year and aren't cheap to begin with.
 1 can of Chicken and Rice from Mountain House (purchased on Amazon for $14!)
1 quart of dried onion flakes (bought for cooking. Shelf life is 1-2 years.)
What Survival Food Should You Pack in Your Bug Out Bag?
It depends on your personal bug out needs. If you're covering long distances in an arid part of the country or have any kind of blood pressure issues, opt for MREs (and some water pouches).
If your plan is to simply get home, and the path is relatively short and you'll have access to water, a couple survival bars and a pair of freeze dried pouches is adequate.
Regardless, I highly recommend having at least one survival bar (more if you have family) and a few water pouches in your car. While preparation is key, it is far more likely you will one day be stranded in traffic or inclement weather than need to bug out!